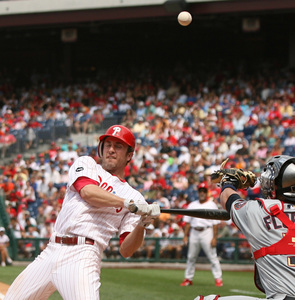 Yesterday, the Phils' pennant hopes took a kick to the balls as the
Phils' Chase Utley broke his hand
getting hit with a pitched ball during the Phils' 7 -6 choke job against the Washington Nationals.
The Phils had the lead in this game 5 -2 after a 5th inning where Pat Burrell stroked a 2-run single to plate Utley and Ryan Howard. They promptly choked up the lead, giving up 2 runs in the seventh inning and then 3 more in the eighth inning thanks to some brutal relief pitching by the Jurassic Jose Mesa and lefty Mike Zagurski. They tacked on an excuse me run in the 9th to come within 1 run, before bowing out to lose 7 -6.
The loss is insignificant in the big picture; what's worse is the injury brings to a halt the momentum that the team seemed to be gaining. Utley's injury comes on the heels of an emotional walk-off homerun by Ryan Howard the night before as well as the imminent return of Brett Myers from the DL. His .336 average, 17 homers, and 82 RBI all place him in the elite class of baseball and the Phils will absolutely not replace those numbers over the month of so he is gone.
Furthermore, there is nothing the Phillies can do to replace Utley's leadership. He has clearly assumed the mantle of team leader, the player whom the other guys on the team rally around. It is obvious he is leaned on in the field to provide leadership and has the respect of his teammates as he is not a guy who pops off to the press.
To make matters worse, let's just say there IS a pennant race for Utley to come back to in a month. Will Utley be able to pick up where he left off? This might be the day we look back on after the season and consider it the day we got knocked out of the pennant race.
(Picture above comes from Philly.com)