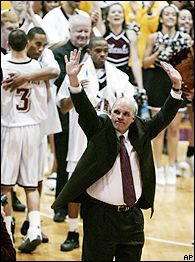 Both St. Joe's and Temple won in their respective A-10 tournament games, meaning that 2 of the 4 teams remaining in the A-10 tourney are Big 5 teams.
Temple took down fellow Big 5 school LaSalle in a game that was much closer than the scored indicated. The final score was 84-75, but it was a 2 point game with under a minute to go. Dionte Christmas had 29 points to pace Temple.
Games in the A-10 tourney continue today with St. Joe's playing No. 12 Xavier at 6:30pm and Temple plays Charlotte at 9pm. According to the
TV Guide
(listings may vary depending on where you live and what cable system you may or may not have), these games should be on CN8.