If you grew up in the Delaware Valley like I did, and you were born during the Nixon administration or later, you grew up hearing
something
about this really tall guy named Wilt Chamberlain. You are told he went to Overbrook High.
You're pretty much told from birth around here that he was probably the greatest basketball player that ever lived. You are told he was really, really tall and really, really good. You are told they changed the rules of basketball just because of his height and his skill.
You are told that he once scored 100 points and about 500,000 people claim to have been there. Everyone has a cousin or an uncle who was there.
And you grow up believing these things despite never having seem them for yourself.
As you get into your teens and early 20s, you begin to view this mythical hero a little more cyncially. Why?
Two reasons: 1.) He seems to never want to be honored by the Sixers for whatever reason; 2.) He writes a book where claims to have had sex with 20,000 women.
20,000 women? Really?
Anyway, the 20,000 women line from his book "
Wilt Chamberlain: A View from Above
" made Wilt a sort of a late night punchline. I can't even imagine what the sports blogs would have done with this line if the book had come out today instead of in 1991.
Fast forward to earlier this spring. I'm at the Wachovia Center for a Flyers game. I walk into the 11th street entrance, and lo and behold, there is the Wilt Chamberlain statue outside of the Wachovia Center. I knew the statue was there (it's been there since 2004), but I never gave much thought to the statue, nor to Wilt himself (other than the 20,000 women line), figuring I knew all I needed to know about Wilt.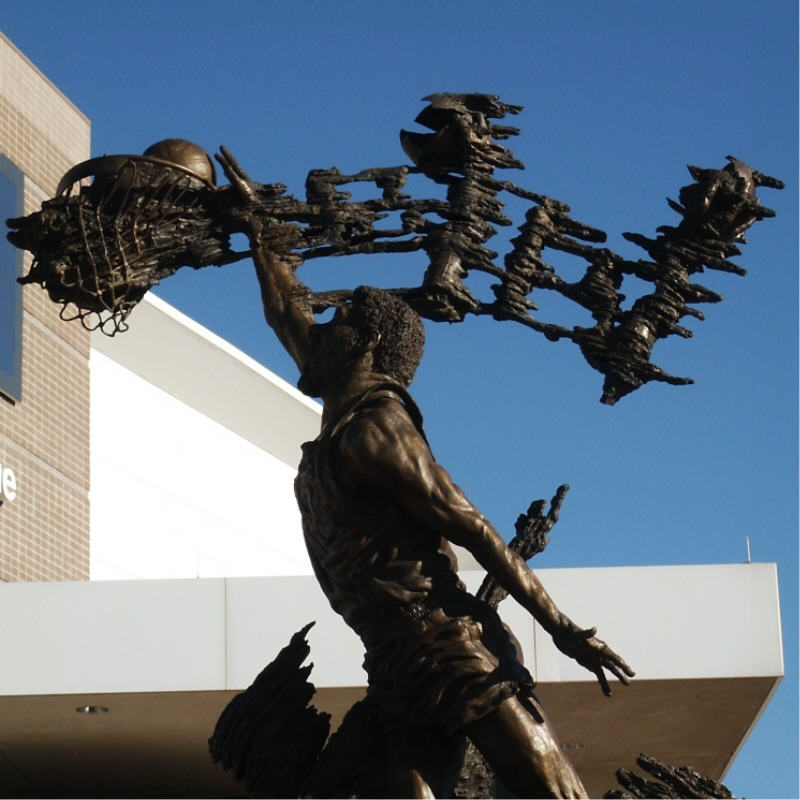 The next week, I was returning an audio book, when I saw the book
"Wilt Chamberlain: Larger than Life"
as a book sitting in a sports themed display. Taking it as a sign, I figured, I might as well check the book out and give it a chance. It was written by Philadelphia native Robert Allen Cherry (not to be confused with
WIP's Rob Charry
), who is a few years younger than Wilt and also attended Overbrook High.
The book itself is a rather comprehensive telling of Chamberlain's life. To follow Wilt's basketball career is almost a telling of the history of NBA basketball from the late 50's to the early 70's. From the playgrounds of West Philly to his sweet bachelor pad high in the Santa Monica Mountains, Wilt's life was nothing, if not eventful. He started out as a bit of a gawky looking kid, who could not only play basketball, but loved track and field as well. As a matter of fact, Wilt's love of track and field would follow him throughout his life up to the point of using his own money to sponsor track clubs on the West Coast which produced Olympic athletes (Jackie Joyner Kersee and Florence Griffith Joyner are two athletes affiliated with one of the most famous of Wilt's track clubs).
From his athletic prowess came the high school stardom at Overbrook High, which ultimately landed him at Kansas University. While at Kansas, Wilt starred in both basketball and track. Also while at Kansas, Wilt would encounter the first high profile defeat at the hand of a better all-around team, the 1957 NCAA Championship game against the North Carolina Tar Heels.
The loss to the Tar Heels would foreshadow future championship games in Wilt's NBA life, where, because of his size and basketball prowess, his teams were always expected to win. This expectations exists despite Wilt's teams being deficient in one or several areas. It was these losses that Wilt always seemed to have to explain away and ultimately seemed to make him act somewhat defensively when discussing his career.
From his years at Kansas, the book chronicles Wilt's life in the NBA, playing for the old Philadelphia Warriors during the NBA season and playing for the Harlem Globetrotters during the off-season. Wilt cherished the time he spent with the Trotters and it is almost mindboggling to believe that the marquee player in the NBA would spend his off-season with an travelling basketball exhibition. Remember, these sojourns with the Globetrotters often took place after disappointing losses in the Championship rounds to the powerhouse Celtic teams of the late 50's and early 60's. Try to picture LeBron James or Kobe Bryant doing this same thing today and it is almost impossible to imagine.
After a year stopover in San Francisco, after the Warriors were sold, Wilt was back in Philly playing for the Sixers. After further disappointments against Boston, Wilt's championship dream finally came true with the 1967 Sixers, who many consider the greatest NBA team ever. The team featured Hal Greer, Villanova's Wali Jones, and Chet Walker, and they simply rolled through the regular season right to the Championship, finally beating Boston in 5 games.
Ultimately, that would be the apex of Wilt's pro career in Philly. Because of a feud with Sixers ownership, Wilt ended up being dealt to the LA Lakers for what Bill Simmons would call the pupu platter of Darrell Imhoff, Archie Clark, and Jerry Chambers. Cherry's telling of the feud is probably the most comprehensive and objective telling that you'll ever read, as the story is a typical he-said/she-said story that one can encounter in a complex relationship. This one-sided trade would foreshadow other one-sided trades in Sixer history; notably the Charles Barkley deal, and depending on whom you believe, the Allen Iverson deal.
Wilt's time with the Lakers did result in a Championship, but Wilt could only play at his formerly dominant level in fits and starts. What also resulted from Wilt's time with the Lakers would be his life long love of the West Coast.
In retirement, Wilt did attempt to stay close to the game, coaching for a season in the ABA, but ultimately, the bachelor lifestyle called. He did make endorsement money (see commercial below), so it wasn't as if he was hurting for money. At one time, there was even the thought of getting into boxing and fighting Muhammad Ali just to show he athletic he really was. Common sense prevailed, however, and Wilt spent a great deal of his time playing volleyball with a whole new group of friends that he found on the beach (he felt that playing volleyball actually allowed him to extend his NBA career). He also went looking for women.
Lots and lots of women.
There are times when the book does sound like a bit like a valentine to Wilt, but I found it balanced for the most part. For example, the issue of the "20,000 women" is dealt with by the author and people quoted in the book make no bones about Wilt's bachelor lifestyle. The author doesn't really attempt to justify Wilt's boast; he simply restates many of the legends about how the ladies just loved to be with Wilt and what could have driven Wilt to want to bed so many women.
All in all, I found the book to be very fair towards Wilt, with respect to his playing career as well as his off-court demeanor and habits. For example, Wilt would probably be described today as a "coach killer" ala Allen Iverson. And while Wilt's foibles are openly discussed, his accomplishments and personality shine through pretty brightly, as well as they should. If you have any interest in Philadelphia sports teams or NBA history, this book is a must read.