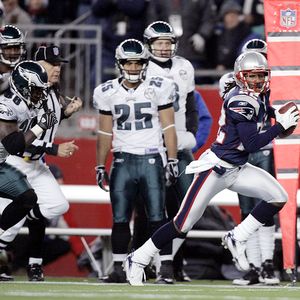 The Eagles decided to play with the big kids in the free agency pool signing DB Asante Samuel to a 6 year, $57 million dollar deal as well as signing DE Chris Clemons to a free agent contract (couldn't find terms).
The Asante Samuel signing was widely anticipated, although I profess myself stunned that the Eagles would commit so much money to a defensive back.
The move essentially moves Lito Sheppard out of his familiar left corner back spot and probably makes him trade fodder. It's a shame because Sheppard has been a good player for the Eagles, but he simply can't stay on the field for any length of time, missing 14 games over the past 3 years. I doubt they'll cut him; worst case scenario is that they keep him on the team and he's an extra CB. Best case scenario has Sheppard going in a trade for either the WR we all want the Eagles to obtain (Roy Williams from Detroit? Larry Fitzgerald?) or to package up Lito and their first round pick to move up in the draft.
The Chris Clemons signing is a bit more straightforward. He will move directly into Jevon Kearse's spot in the DE rotation. As a matter of fact, he can probably have Kearse's number 93 if he wants it; it's not like anyone is using it anymore. Clemons fits in with the small, fast DEs that the Eagles seem to prefer over those DEs that are built a bit more stout to handle the run on 1st and 2nd down, but are quick enough to speed rush on 3rd down.
Next of the shopping list for the Eagles should be a WR. By the way, the one player I thought the Eagles might reach out to for a return, Donte Stallworth, signed a 7-year deal with Cleveland last week. As most of the free agent WRs have signed, it looks like a trade or the draft will probably be the way to go, unless they want to go with someone that has been hurt recently, like Javon Walker.