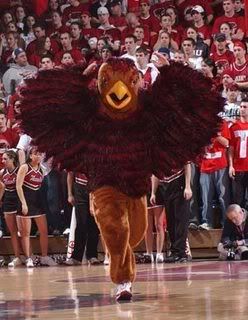 Ever since my 2 years spent at St. Joe's University before transferring to Penn State, I've always enjoyed Big 5 basketball. I admit I wasn't one of those kids who grew up sneaking into the Palestra to catch some Big 5 triple-header. I blindly followed the Villanova Wildcats because that's who the hot team was in the middle 80s when I was growing up. Mostly, it was because they were the most successful local college basketball team. Occasionally, we would root for the Temple Owls (Terence Stansbury and Nate Blackwell were tremendous), but mostly, it was all Villanova, all the time.
Fast forward to my freshman year at St. Joe's. I was blissfully unaware I was supposed to dislike Villanova University. This was all explained to me before the first SJU-Villanova game I attended as a student. It wasn't tough to understand.
Villanova was on the bucolic Main Line, with it's lush lawns and finely manicured colonial mansions. St. Joe's was on City Line Avenue, which is essentially an industrial corridor, and bordering the more blue collar
Overbrook
. Villanova folks tended to be snobby and standoffish; St. Joe's folks were a little more earthy and real. I mean, we were tougher than Villanova people; we were taught by Jesuits. Jesuits have also been known over the years as "God's Marines" for their intelligence and toughness as well as their alleged roles in various conspiracies.
I quickly found comfort in hating Villanova insomuch as when you go to a school with no football team, you have to take your hated rivalries where you can get them. So for me, a kid that vigorously celebrated the 1985 Villanova National Championship, I now had a hatred for Villanova.
When I transferred to Penn State, my vitriol for Villanova subsided for the most part, but it still comes up when they play St. Joe's, in what is now known as
"The Holy War"
.
Last night was a renewal of bad blood between the Hawks and Wildcats at the hallowed Palestra. It wasn't much of a game as
St. Joe's took Villanova out by the woodshed and beat them by a score of 77 - 55
. The game wasn't really as close as even that score indicates. St. Joe's came out running and Villanova obliged by turning the ball over repeatedly in the first half. Villanova's stagnant offense pretty much doomed them from the start and they had no answer defensively for either Pat Calathes and Rob Ferguson, who both had 20 point nights. St. Joe's shot 47% from 3-point range as a team, with Rob Ferguson shooting 5 of 6 beyond the arc.
I was lucky enough to watch the game on CSTV and the atmosphere was pretty wild. Even though the game was at the Palestra, it was a St. Joe's home game on the schedule (I was always considered that a kind of a big middle finger to Villanova, who has a history of trying to back out of the Big 5, whereas St. Joe's always embraced the Big 5). The St. Joe's kids were jumping and screaming throughout the game and they had a lot to be excited about.
The only downside to the telecast was having to listen to Tom McCarthy call the game on CSTV. For reasons I can't explain, I don't like McCarthy (not happy with his move of coming back with the Phillies). The color guy was Steve Lappas, the former Villanova coach, who wasn't that bad, and provided good insight during the game.