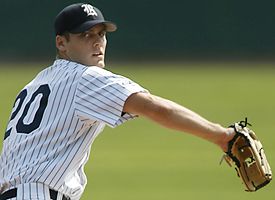 The Flyers beat the Ottawa Senators 3 - 1 on the strength of two fluky Mike Knuble goals.
The Flyers put in a solid defensive effort, along with a solid checking game that ultimately squeezed the life out of Ottawa. Ottawa, just coming off of a coaching change, did not come in and look like the top team in the Eastern Conference.
Marty Biron set a good emotional tone after Ottawa scored their first goal and Jason Spezza hung out in front of Biron and stood and celebrated like he just found a $20 bill. Biron (rightly, so) shoved Spezza, and in the ensuing melee, Spezza speared Braydon Coburn and ended up getting tossed.
As it stands this AM, the Flyers are in the 8th spot in the Eastern Conference standings. They play in New York all weekend, with a game against the Isles on Saturday and in the Gah-den to face the New York Rangers in an NBC game.
Joe Savery, Josh Outman Get Smacked Around
Anyone looking to Josh Outman or Joe Savery to offer a challenge to Adam Eaton's hold on the 5th spot in the starting rotation had better hope this was an aberration. Savery, last year's 1st round pick for the Phils, gave up 5 earned runs in one inning of work and Outman (love that name) got raked for 4 runs in just short of two innings of work.
I usually don't put too much stock in early Spring games, but in this case, I think many Phils fans (myself included) were sort of excited to see Josh Outman, and to a lesser extent, Joe Savery, pitch well this spring, so that they could be candidates for use in the event of injuries or the eventual Adam Eaton meltdown.


Programming Notes